HOME
CEBU
LAPU LAPU CITY (MACTAN ISLAND)
Aldea del Sol (Mactan, Cebu)
Brookfield (Mactan, Cebu)
Collinwood (Mactan, Cebu)
Pacific Grand Villas (Mactan, Cebu)
Vittoria (Mactan, Cebu)
MORE LAPU LAPU CITY (MACTAN) PROPERTIES
LAPU LAPU CITY (MACTAN) LOT ONLY
LAPU LAPU CITY (MACTAN) CONDOMINIUMS
La Mirada at Residencia de Vistamar (Mactan, Cebu)
CEBU CITY
188 Sunflower Drive (Banawa, Cebu City)
MORE CEBU CITY PROPERTIES
CEBU CITY LOT ONLY
CEBU CITY CONDOMINIUMS
Grand Cenia Hotel & Residences (Banilad, Cebu City)
Woodcrest Residences (Guadalupe, Cebu City)
MANDAUE/CONSOLACION PROPERTIES
Eastland Estate (Consolacion, Cebu)
MANDAUE/CONSOLACION LOT ONLY
MINGLANILLA
Coral Bay (Minglanilla, Cebu)
Fonte di Versailles (Minglanilla, Cebu)
TALISAY CITY
Villa Solana (Talisay City, Cebu)
MORE TALISAY CITY PROPERTIES
TALISAY CITY LOT ONLY
PROPERTIES IN OTHER AREA
CONTACT ME
INFO FOR CLIENTS
LEGAL MATTERS
TERMS OF USE
PRIVACY POLICY

Historical Trivia

Cebu City, the Queen City of the South, shares memories that will surely interest people. It started from a sleepy fishing village in 1521. Magellan arrived and planted the wooden cross, which became Cebu's first symbol of Christianity. The said cross is now located at the upper Magallanes, a street named after Fernando de Magallanes. He was intrepid Portuguese explorer who made the great voyage of exploration under the flag of Spain.

In April 3, 1898, General Leon Kilat of Bacong, Negros Oriental, organized a revolution against the Spanish colonialism. The Spaniards then decided to build a shelter for themselves. It was Miguel Lopez de Legazpi who insists on building a fort, which is now famous for being the oldest and smallest fort in the country, the Fort San Pedro.

However, on December 1898, the Americans beat the Spanish fleet during the war of Manila Bay. And the fort fell into the native Cebuanos' hands. With the American reign in full force in 1901, the Senate Pro Tempore, late President Sergio Osmena Sr. and the Congressman and majority floor leader in the House of Representatives, late Senate Manuel Briones took action for Philippine Independence.

One of the most unforgettable moment in Cebuano history is the granting of charter by virtue of Commonwealth Act No. 58 on February 24, 1937. The late Senator Vicente Rama helped as the author and sponsor of the bill. Elpidio Quirino, as the representative of Manuel Quezon, appointed the mayor and board members of Cebu City.

Due to Cebu City's extensive population and strategic location, it became the principal Japanese base after their landing on April 10,1942. Finally, on March 1945, Cebu felt freedom when American liberation landed in Talisay town. In full circle, Liberation restored law and order and established the Philippine Civil Affairs Unit (PCAU) in the city.

In April 1965, Cebuanos focused on Christianity, Don Legaspi and Fray Urdaneta ordered to build the San Augustine Church, which is now called the Basilica Minore del Santo Nino, in honor of the first miraculous image of Seņior Santo Nino.

Cebu, which was formerly called as Sugbu, Zebu, Zubu, Sebu, Sibuy and others by merchants, from a sleeping fishing village, is now one of the most productive cities in the Philippines. And now that's something we are certainly proud of!
Geography
Cebu City is located on the central eastern part of Cebu Province, an island at the center of the Visayas in Southern Philippines. As defined by the Bureau of Land Location Monument (BLLM) No. 1, Cebu Cadastral Survey, it is 10 degrees 17 minutes North Latitude and 123 degrees 54 minutes East Longitude. It is bound by Mandaue City in the North and the City of Talisay in the South. On the East is Mactan Channel and on its West are the Municipality of Balamban and the City of Toledo.
Land Area :
Composition:
Cebu City Area: 29,124.78 has.
Urban Area: 5,598.53 has.
Rural Area: 23,526.25 has.
North District Area: 12,341.15 has.
Urban Area: 2,965.45 has.
Rural Area: 9,375.70 has.
South District Area: 16,783.63 has.
Urban Area: 2,633.08 has.
Rural Area: 14,150.55 has.
Number of City Barangay: 80
North District: 46
South District: 34
Classified Urban Barangay: 50
Classified Rural Barangay: 30

Physical Characteristics :
TOPOGRAPHY
The topography of Cebu City is rugged and mountainous with elevation reaching up to 900 meters above the mean sea level. Flat lands are found only along the shorelines occupying about 23 square kilometers (8% of its total land area), containing 40 barangays and about 2/3 of its population.
GEOLOGY AND SOIL
It is made up of structurally complex sedimentary and volcanic rocks that have undergone various degrees of metamorphism.
The three types of Soil in Cebu City;
a. Mandaue Silt, characterizing most of the coastal plains from Mandaue City to Minglanilla.
b. Faraon Clay, found in the middle part of the city .
c. Baguio Clay, found in the upland areas and the watersheds of Mananga and Kotkot-Lusaran.
WEATHER AND CLIMATE
Weather and climate are determined by temperature, moisture and movement of air. The principal climates zones defined in terms of temperature averages, which occurs the broad areas of the earth. These are tropical, polar, and temperature climate zones. The Philippines is within Tropical Climate Zone.
TEMPERATURE
Mean Annual Temperature: 26.50 'C
Mean Highest Monthly Temperature: 34.80 'C
Mean Lowest Monthly Temperature: 20.60 'C
Coldest Month: January
Warmest Month: May
RELATIVE HUMIDITY
Average Relative Humidity: 75%
RAINFALL (Source: PAG-ASA)
Average Annual Rainfall: 1,636.70 mm in the old Lahug Airport, and 1,609.70 in the Cebu Customs House area. Rainfall decreases from February to April and gradually increases from May to July.
WIND VELOCITY AND DIRECTION
Average Wind Velocity: 10 km/hr for varying directions
Northeast Wind (amihan): November to May
Southwest Monsoon (hagabat): June to September
Typhoon usually comes: October to December
Strongest Typhoon Occurred: 1991 Typhoon Ruping
LAND COVER
a. Residential
b. Commercial
c. Industrial
d. Institutional
e. Agricultural (remained only in the upland or hilly land areas)
LAND CLASSIFICATION AND PROTECTION
a. 28% of Cebu City are within 18% slope or less
b. 64% of the city's land classified as alienable and disposable
c. the rest are classified as forest and timberland
d. 76.3% of its land covered under the National Integrated Protected Areas System (NIPAS)
e. 23% of the 80 barangays are totally or partially located in the watershed areas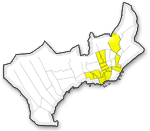 Cebu City Map



Magellan's Cross

The most famous of all historical landmarks in Cebu City. This cross was planted in Cebu shores by Ferdinand Magellan in April 14, 1521, marking the spot where the first Catholic Christians- Rajah Humabon, Queen Juana and about 400 followers were baptized by Fr. Pedro de Valderama. Encased in hollow tindalo wood, it is now for centuries housed in a kiosk made of adobe wood and red-brick tiles. Devout Cebuano's and visitors never fail to pause and pray, drop coins and light votive candles before the Magellan's Cross. It has been venerated by people from all walks of life in the past four centuries.



Taoist Temple

Located at Beverly Hills, Cebu City. This temple preserves the teachings of Lao-tse the 600 B.C. Chinese Philosopher. Everyday people climb its 99 steps to light joss sticks and have their fortunes read.



Basilica Minore del Sto. Niņo

The BASILICA MINORE DEL SANTO NIŅO, the only basilica in the Far East, is yet another historic landmark that will never cease to amaze its visitors. It in itself is a museum, a repository of beautiful religious images, and oil paintings of Augustinian saints, martyrs, and bishops that hang in the corridors of the convent. This Basilica was the former SAN AUGUSTIN CHURCH, built upon the order of by Don Legaspi and Fray Pedro de Urdaneta. The Basilica houses the country's oldest religious image-the Miraculous Image of the Holy Child Jesus more popularly known as "SENOR SANTO NIŅO".



Fort San Pedro

The smallest and oldest tri-bastion fort in the country. Built in 1738 this served as the nucleus of the first Spanish settlement
in the Philippines. It's three
bastions La Conception, San Ignacio de Loyola and
San Miguel till today still stand on their corners. It has a total area of 2,025 sq. meters; the walls are 20 ft. high,
8 ft. thick and each of the towers stands 30 ft. from the ground.




Plaza Independencia

Cebu's Plaza Independencia was formerly called "Plaza Libertad". Strategically located between Fort San Pedro and the building that used to house the old Gobierno Provincial, it now becomes the most favored spot for picnics and trysts. Dominated by the obelisk of Legaspi, Plaza Independencia is Cebu's most historically significant plaza.